CLASSROOMS: Our classrooms and bathrooms are bright, colorful, and child-centered. Care is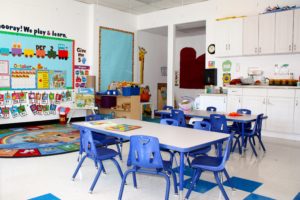 given to change the books and activities available regularly to engage the children in exploration. Large Bulletin boards contain changing displays of current art projects. Special care is given to cleanliness and safety. Each classroom has a communication center, circle area, snack and art tables, easels, blocks and small manipulates, books, and dramatic play center.
CURRICULUM: Each day the children participate in circle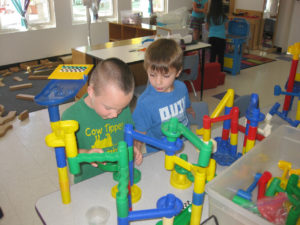 times, inside and out work/play time, creative art, music, and snack time focused around select topics. Each month we gather for "Sing Along" and "Chapel Time". A calendar is emailed to the parents monthly. Our outside playground is an extension of the classroom and we change the equipment often to stimulate interest. Shade Sails provide color and shade to this space with a sandbox, grassy area, wheel toy track, and climbing structure available. Wonderful Outside Weeks are held throughout the year where parents help with extra special activities.